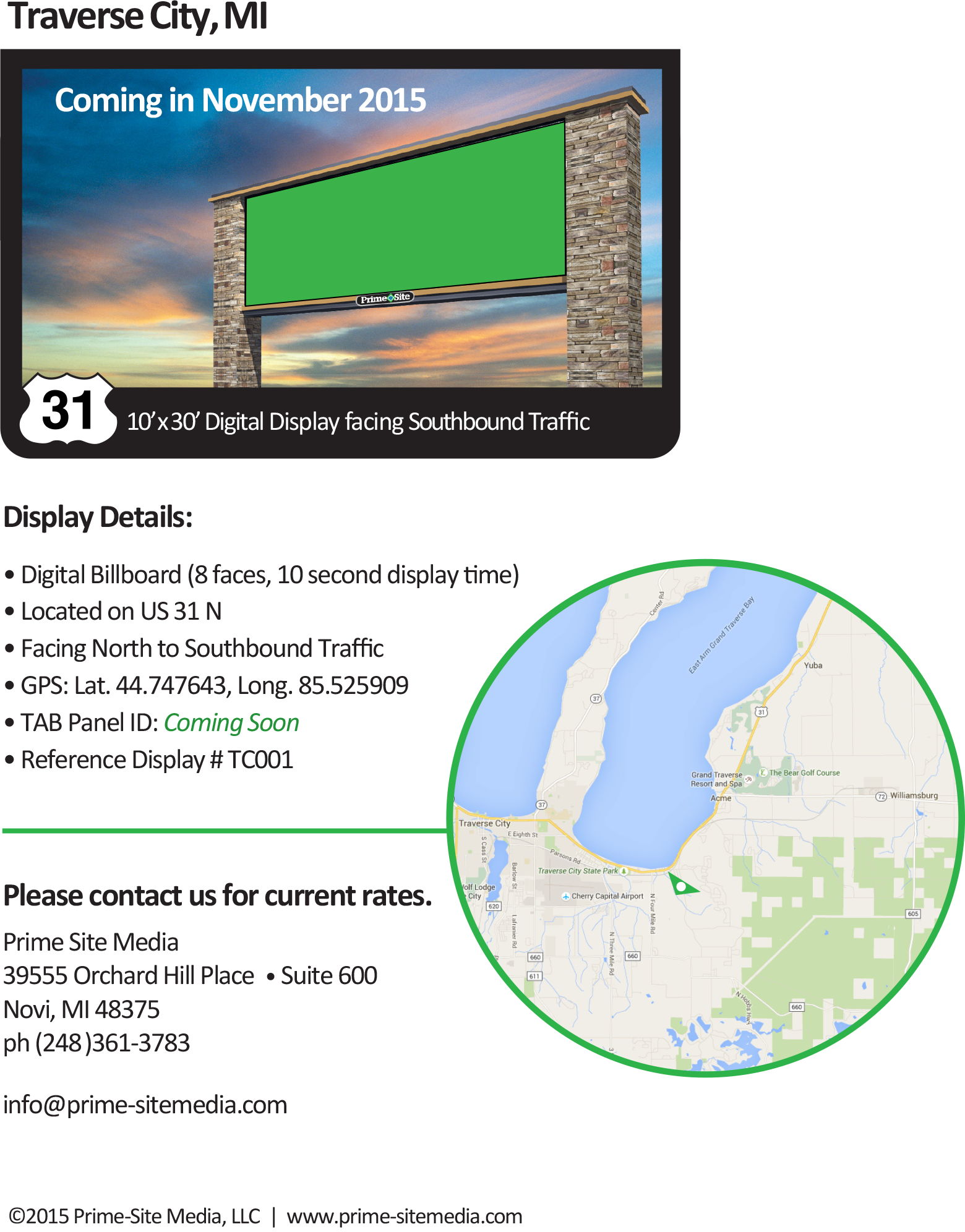 WE ARE WHERE YOU WANT TO BE.
Out of Home is about providing a presence where your audience lives, works and plays. Digital out of home offers the ability to reach that audience with continually changing, up-to-date information.
Prime-Site Media offers well positioned digital media in preferred demographic locations where others have no presence. Our media is properly positioned in pristine media environments, specifically crafted to incorporate the aesthetics of the communities where they reside.
Contact Prime-Site Today!
Hwy 53, Shelby Township, MI
Hwy 53, Shelby Township, MI
M-53, Michigan, USA
Hwy 10 (Lodge Fwy) at Livernois
Hwy 10 (Lodge Fwy) at Livernois
15392 Livernois Ave, Detroit, MI 48238, USA
Traverse City, MI
Traverse City, MI
Traverse City, MI
2282 US-31, Traverse City, MI 49684, USA
US 31 at Quincy
US 31 at Quincy
US-31, Holland, MI 49424, USA
Chicago Dr., Holland, MI
Chicago Dr., Holland, MI
Chicago Dr, Holland, MI, USA
I-96 Howell,MI.
I-96 Howell,MI.
I-96, Fowlerville, MI 48836, USA
Hwy 23 at Lee Rd., Brighton, MI
Hwy 23 at Lee Rd., Brighton, MI
7326-7416 Whitmore Lake Rd, Brighton, MI 48116, USA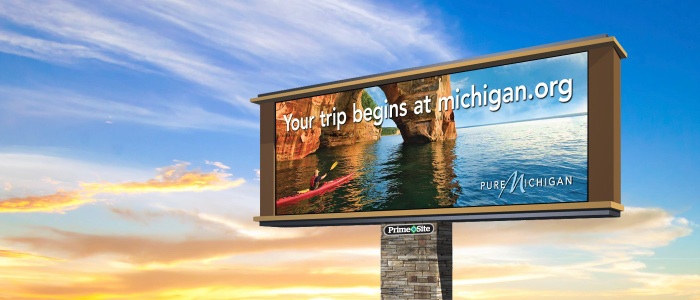 WE ARE WHERE YOU WANT TO BE.
WE ARE WHERE YOU WANT TO BE.
About Prime-Site Media
Prime-Site Media brings together the most knowledgeable and experienced professionals in the Out of Home business.  Combining respective talents in real estate, site selection and development with digital advertising sales and digital display expertise, Prime-Site offers its advertisers unique access to some of the most difficult-to-reach, affluent communities.
Site Selection and Community Approval
Jay Carll, Co-Managing Partner of Prime-Site brings more than thirty years of experience, working with property owners and communities to identify and implement functional strategies for placement of the new, digital OOH media.  Essential to this strategy is an understanding of the needs and wishes of the communities where the advertising is placed.
The Prime-Site team works with community leaders to design and construct architecturally pleasing structures set into carefully designed and maintained landscapes.
For more info, please contact jay@prime-sitemedia.com
Strategy and Placement
Bob Klausmeier has been associated with Digital Out of Home Media since its inception.  His work with the emerging digital platform in Out of Home began when there were only five digital outdoor locations in all of America.  Working with and along side the largest Out of Home companies in the world, Klausmeier assisted with the development on the technology necessary and appropriate for powerful advertising at key, Out of Home locations.
The Prime-Site sales team is well versed in the power of digital out of home media. Bob and his sales team assist clients with effective strategies for best use of the visual opportunity available through programmable, digital media.
Contact Prime-Site for design assistance at bob@prime-sitemedia.com.
Digital Advertising Design
The Prime-Site Media sales team works with our in-house, OOH experts in converting your concepts into powerful, effective media, perfectly sized and spaced for clear readership.
Contact Prime-Site for design assistance at design@prime-sitemedia.com.
Digital Out of Home Media Works… Here's Why:
Not a static ad, but a continually changing stream of dialogue with the passing public.
Limitless copy changes.
Day-Parting to reach specific demographics at specific times of day.
Focused communication with daily commuters.
Dynamic content, conditional scheduling and self-scheduling options.
Punch through the glare and adjust to the changing elements with continual illumination control through automatic adjustments.
Choreograph synergies with other media for a powerful, ubiquitous presence.
A maximum of eight advertisers per display face.
Absolutely no production costs.
DESIGN SERVICES
We offer a comprehensive array of design services for advertisers and agencies alike. Our design staff is particularly adept at creating winning creative ads, specifically tailored for digital outdoor placement.
WORKING WITH YOUR COMMUNITY.
Civic leaders can find themselves challenged to meet the needs of multiple constituencies:
Businesses wish to use modern advertising technologies to enhance growth.
Community leaders need the enhanced tax revenue and jobs that can be generated by local business development.
Local residents are reluctant to accept technologies that could potentially change the look of their environments.
Prime-Site Media understands the conundrum and has developed a strategy that allows both business and residential interests to coexist in harmony.
The strategy is centered around listening to the communities we serve and compromising to find common ground. Effective design and lighting controls are central to the Prime-Site approach.
Prime-Site Media walks the fine line that separates the desire by local businesses for growth through effective advertising and the communities where such advertising is necessitated. By offering community leaders a buy-in to the design and placement of the display structure and its surroundings, Prime-Site Media helps to create a win:win for the community and those businesses, whose needs it serves.
Please allow us a few minutes to demonstrate why many communities, where outdoor advertising has been historically prohibited, have chosen to work with Prime-Site Media to develop a workable scenario that meets the disparate agendas of members of your community.
For more info, please contact jay@prime-sitemedia.com
Family-friendly Digital Media
Powerful Exposure for Local Business
Amber Alert, Silver Alert Networks
Community Messaging
Contact Prime site media today.
Prime-Site Media, LLC
39555 Orchard Hill Place, Suite 600
Novi, MI 48375
Prime-Site Media
Prime-Site Media
39555 Orchard Hill Pl #600, Novi, MI 48375, USA